Delivery & Returns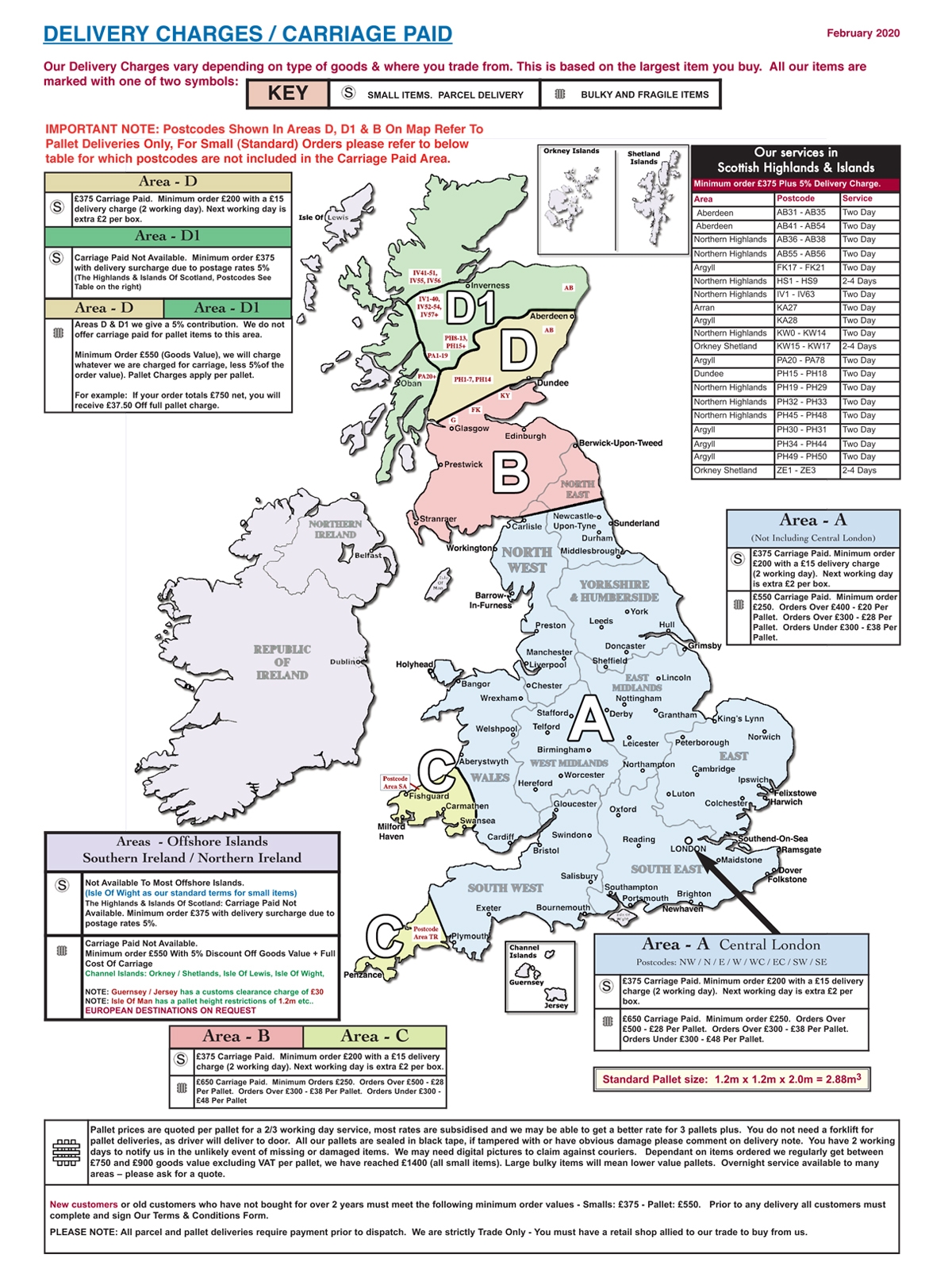 ---
DAMAGES / RETURNS
Deliveries must be checked for any signs of damage to carton(s) or pallet(s). Sign for the actual number or parcels/pallets - noting if any are missing or there are condition issues .
Without you doing this we will be unable to claim.
In the case of pallets they should always be delivered to you sealed on the pallet with pallet wrap.
Any issues please sign proof of delivery accordingly.
Any damage, faulty or non delivered items must be reported within 2 WORKING DAYS from date of delivery otherwise no liability will be accepted.
Please always quote your Account Number, Invoice and Product Number and details of the fault which will be investigated, any exchanges/credits will be sorted on your next delivery.
IT IS STANDARD PRACTISE TO ASK FOR A DIGITAL PICTURE VIA EMAIL OF THE FAULT FOR US TO CLAIM OFF CARRIERS / SUPPLIERS.
Especially In the case of large bulky goods we may ask you to help us out by accepting a discount(s) and selling at a reduced price or making a repair.
DAMAGES WILL ONLY BE CREDITED / REPLACED IF RETURNED IN ORIGINAL PACKAGING.
Please note you must hold onto your PALLET and original packaging until you are satisfied your goods are in good condition.
If you have disposed of the pallet we have no way to collect the items and will not be able to offer any refunds.
RETURNS - MUST BE ADEQUATLY PACKED - TO ENSURE THEY ARE RECEIVED BACK IN THE SAME CONDITION AS YOU RECEIVED.
IF THEY ARE INADEQUALTY PACKED AND RECEIVED BACK IN UNSALABLE CONDITION WE MAY BE UNABLE TO CREDIT .
All returns must be returned with a completed returns form ..
CLICK HERE TO DOWNLOAD OUR RETURNS FORM